Top Hotels on the Tour de France 2016
The Tour de France is one of the oldest and most prestigious cycling tours in the world. Millions spectators step out to cheer the participants along "Le Grande Boucle" ("the big loop", as it's known in France), with billions more tuning in to watch on TV, making it the largest sporting event in the world. Although the traditional finish takes place in the Champs-Élysées, the teams have the chance to take in swathes of French countryside before they pedal their way into Paris.
In a truly international spirit, the competition has since grown to include other neighbouring countries along the route, with participants from around the world coming together to compete.
And the Tour de France's reputation is well-deserved. The course covers a brutal 3500 km (2,200 mi) over a 23-day period. To throw some facts out, that means an average of 486,000 pedal strokes per rider over the course of the entire race, burning a whopping 123,900 calories. Incidentally, this also produces enough sweat to flush a toilet 39 times.
If the mere thought of all that activity has got your heart rate going, then don't worry. You can enjoy the beautiful sights along the route without having to perspire. From Normandy to Paris, come join us as we pick our favourite hotels along the Tour de France 2016.
Mercure Granville Le Grand Large, Granville
Perched on the cliffs overlooking the Chausey Islands, the Mercure Granville Le Grand Large is situated in the heart of Granville. If sweating off the calories on a bike ride isn't your thing, you're within walking distance of the Casino and Christian Dior Museum. The bay boasts dramatic tides, which you can see from the terrace while indulging in some local delicacies. For exercise, you'll have direct access to the beach. And if you feel like a pedal, there's always the hotel gym!
For a coastal paradise against a background full of culture and couture, check out our selection of hotels in Granville today!
Chateau de Verrieres, Loire Valley
You don't need to hop on a bike to explore all that the Loire Valley has to offer. In fact, we can't think of a better base than the sumptuous setting of the Chateau de Verrieres. Set in 4 acres of peaceful grounds, the rooms all retain their historic feel, harkening back to the building's history as a private mansion. If you love to walk in the past, then the streets and markets of Saumur are just minutes away. If you need some time to relax, take a walk in the gardens or chill by the heated pool.
With the castles, countryside and rivers of the Loire Valley on your doorstep, slowing down is definitely the best way to see this exquisite part of France.
Step into this seat of old world French luxury and see our selection of hotels in the Loire Valley here.
Sport Hotel Hermitage & Spa, Andorra
Nestled between France and Spain in the Pyrenees mountains, Andorra is known among travellers for its ski resorts and duty-free shopping. But whether it's bombing down the slopes or hunting for bargains which catch your fancy, you can bet the Sport Hotel Hermitage & Spa is the perfect home from home.
Overlooking the snow capped scenes of Soldeu, this hotel boasts a jacuzzi, beauty centre and sauna with massage services in the Wellness Mountain Spa. And at the end of a long day, tuck into the delicious cuisine of your choice of 8 different restaurants – with food prepared under the guidance of Michelin star chef Nandu Jubany.
Hop on your bike and discover the magic which lies between France and Spain. The beauty of the Pyrenees await – and so do these great hotel deals!
Hotel Soleil Terminus, Carcassonne
Cycling forward to the medieval citadel of Carcassone, this walled town is straight out of a French fairy tale. With Roman ruins, romantic castles and the ancient Cité de Carcassonne fortress to explore, you'll find yourself in the middle of a medieval ballad. The area is also famous for their local wine, so be sure to try a glass or two before you leave.
And you'll find your own castle in the Hotel Soleil Terminus, which offers easy access to all the major attractions, while the 19th-century setting will keep the feelings of the past alive during your stay. It's also a welcome centre of relaxation to come back to after a day's archaeological exploring, as the hotel includes an indoor pool, golf course, spa and fitness centre.
Delve into history and explore a France of ages gone by when you visit this UNESCO World Heritage Site, which sits just a stone's throw from all the charms of the French countryside. Check out our hotels in Carcassonne today!
La Villa Nova, Montpellier
From the historic to the stylishly modern, slip into the private intimacy of this chic stay in the capital of France's Languedoc-Roussillon region. All 4 rooms in this hotel are soundproof and come with state-of-the-art facilities, along with a private terrace. The hotel features an on-site spa too, for that extra dose of relaxation.
Which you just might need with all that's on offer nearby. La Villa Nova sits right in the middle of Montpellier's bustling entertainment district. The Kawa Theatre, Peyrou Gardens and Comedy Square are all mere minutes away.  Explore further and you'll find that Montpellier is a charming blend of historic boulevards and multicultural modern hotspots.
Book fast as this is France's fastest growing city! Whether you prefer classic French heritage or the fast-pace of a student city, you'll find what you're looking for in Montpellier.
The Hotel du Collectionneur Arc de Triomphe, Paris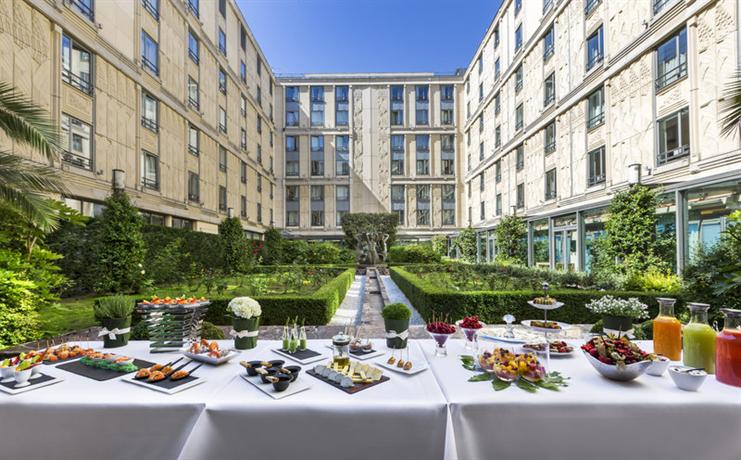 Phew, we made it! Cycle down the Champs-Elysees and look upon the Arc de Tiomphe in victory, because you're in Paris!
You'll quickly find that there's nowhere better to take your ease in the City of Lights than the Hotel du Collectionneur. This 5-star slice of luxury is an Art Deco dream, just minutes from some of Paris's main highlights.
At the hotel, you can try traditional French cuisine at the on-site Safran restaurant. For some well-being and relaxation, the spa boasts 10 cabins, a Jacuzzi and an oriental hammam. What better way to end your French adventure? But if you still feel like getting active, there is a fitness room with personal trainers available on request.
But what to see first? The Louvre, Palais Garnier and Eiffel Tower are all within easy distance from the hotel, along with some of Paris's top shopping hotspots. Just over the road is the very chic Parc Monceau, perfect for a leisurely stroll. And with the Courcelles Métro a short walk away, all of Paris becomes yours to explore!
But whatever way you reach this incredible city, make sure it's on your bucket list. You'll probably want to put it there a few times, as this city is famous for calling travellers back again and again. Check out our Paris hotels to suit every budget here.
We hope you've enjoyed being on tour with us! Whether you plan on seeing France by land, air or bike, head on over to HotelsCombined.com to find the very best hotel deals in minutes.